Microsoft Project Server 2010
Project Server 2010 combines powerful business collaboration with advanced planning and execution capabilities to deliver flexible and easy to use work management solutions. Project 2010 planning services to get you 2010 Ready.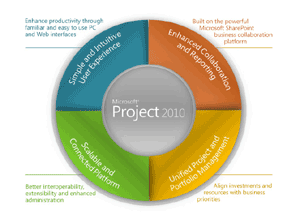 What's New in Project Server 2010?
Want improved productivity and better business performance? Project Server 2010 ensures organizations select and deliver the right projects while gaining greater visibility and control over resources and costs.
End-to-end project and portfolio management
A single server which combines the best of Office Project Portfolio Server 2007 with deep capabilities of Project Server 2010
Built on SharePoint Server 2010
Bring together powerful business collaboration, business intelligence, and structured execution capacities
More New Features
Unified project & portfolio management
Simple and intuitive user experience
Enhanced collaboration and reporting
Scalable & connected platform
Prioritize, Align & Execute Effectively
Microsoft Project Server 2010, built on SharePoint Server 2010, delivers flexible work management solutions. The innovative new capabilities in Project Server 2010 lead to improved productivity and better business performance.
Unified project and portfolio management
Familiar SharePoint UI and a common data store make Project Server 2010 easy to use. A comprehensive API enables you to customize and extend both project and portfolio capabilities.
Effective use of resources
Select the right project portfolios and maximize resource utilization—effectively prioritizing projects from multiple dimensions.
Flexible Web-based Project editing
Easily build schedules online and conveniently make project edits from anywhere.
Demand management simplified
Capture all work from simple tasks to complex projects in a centralized repository. Develop and deploy effective governance workflows to drive accountability and capture project information, cost and resource estimates, and other valuable project data.
More powerful dashboards and reports
Gain transparency and control with the Microsoft Business Intelligence Platform: Excel Services, PerformancePoint Services, Visio Services, PowerPivot for Excel 2010 and SQL Reporting Services are all at your fingertips. Customize reports in a familiar Excel editor and create powerful dashboards to effectively monitor and share portfolio performance.



4 Ravey Street
London EC2A 4QP
t: +44(0)20 7729 1811
f:+44(0)20 7729 9412
information@premiercs.co.uk