Visio 2010 Review
Microsoft Visio Premium 2010 takes diagramming to a bold new level with dynamic, data-driven visualization tools and templates, powerful process-management features, and advanced sharing capabilities through the Web. PLEASE NOTE: In order to utilize the advanced sharing capabilities for the Visio 2010 Visio Services feature, you will need to obtain and install SharePoint Server 2010 Beta (download the Enterprise CAL Edition).
Visio 2010 brings many new features that make Visio more powerful and easier to use. This overview gives just a few quick highlights on Visio 2010.
One of the first things users of Visio 2010 will notice is that menus and toolbars have now been replaced by the Microsoft Office UI (more commonly knnown as the Ribbon), which makes frequently used commands easier to find.

The new Ribbon is accompanied by a redesigned Shapes Window (shown below in both expanded and collapsed mode) which lets you easily combine your favorite shapes from multiple stencils into one view.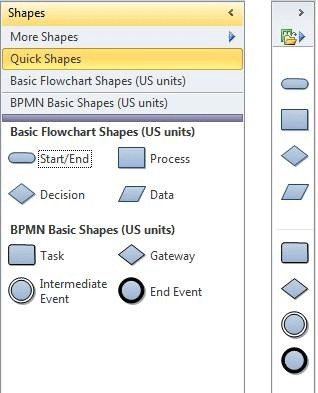 Visio 2010 also includes many enhancements to the diagram creation experience. One such enhancement is the Quick Shapes Mini Toolbar, which allows you to hover over a shape and click to AutoConnect a new shape, as shown in the below screenshot. This is one of the ways Visio has integrated Live Preview into the diagramming experience.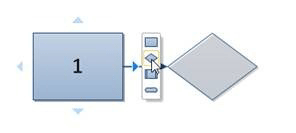 The advanced diagramming tools of Visio 2010 help you simplify complexity with dynamic, data-driven visuals and new ways to share on the Web in real-time.
Start by building your diagram with professional-looking templates and modern, pre-drawn shapes. Then, easily link your diagram to popular data sources (such as Excel). You'll see data automatically refresh right within your diagram, reflected in vibrant visuals such as icons, symbols, colours, and bar graphs. Finally, with just a few clicks, publish your data-linked diagram to SharePoint, and provide access to others on the Web, even if they don't have Visio.
Together, simplicity, data-driven shapes, and Web sharing make Visio 2010 one of the most powerful ways to see and understand important information.